Assoc Prof. Michael J. Sandow Upper Limb Orthopaedic Surgeon
BMBS, FRACS, FAOrthA, PhD
Assoc Prof. Michael J. Sandow
Associate Professor Michael Sandow specializes in the assessment and treatment of disorder and injuries of the shoulder, elbow, wrist and hand. He is a member of the Australian Hand Surgery Society (immediate past President) and Shoulder and Elbow Society of Australia (recent past President), and continues in active clinical practice as well as working on new and better ways to treat upper limb problems.
He is a member of numerous national and international medical associations and regularly presents at local, national and international medical meetings. He has recently completed his PhD (FUSA) on defining an explanation of how the wrist works, and identifying new ways to address wrist injuries. The clinic has recently strengthened its relationship with the Centre of Orthopaedic and Trauma Research, University of Adelaide, to further increase our capacity to conduct cutting edge research to find the best ways to help our patients.
Assoc Prof Sandow continues to be involved in the development and delivery of treatment protocols and procedures that incorporate operative and non-operative modalities to ensure patients get the optimum care to achieve best outcomes.
Contact Details
Tel: (08) 8236 4166
Facsimile: (08) 8236 4110
Email: [javascript protected email address]
Orthopaedic Speciality
Consulting at
Wakefield Orthopaedic Clinic,
Level 2 Calvary Adelaide Hospital, 120 Angus Street, Adelaide.
Golden Grove Specialist Centre, (adjacent Golden Grove Family Health)
205 The Golden Way, Golden Grove, SA 5125.
Operating / Visiting Orthopaedic Surgeon at:
Calvary Adelaide Hospital
Parkwynd Private Hospital
St. Andrews Hospital
Patient Care Links: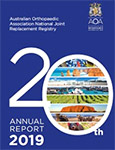 The Australian Orthopaedic Association National Joint Replacement Registry - as a patient you should ask if the joint replacement implant selected for you is one that has good results in the AOANJRR.
Click here to view Assoc Prof. Michael J. Sandow CV
You will need the Adobe Reader to view and print these documents.