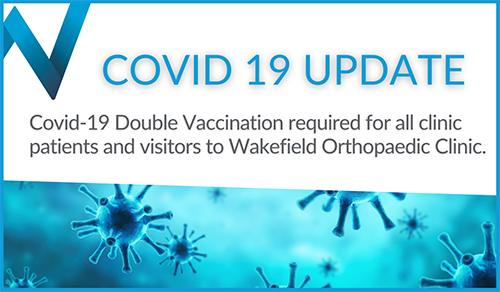 At Wakefield Orthopaedic Clinic, our priority is the safety and wellbeing of our staff, patients and community as South Australia opens the borders to interstate and international arrivals with the expectation of Covid-19 living in the community.
In accordance with the recommendations issued by Calvary Adelaide Hospital, Wakefield Orthopaedic Clinic will require patients and visitors, to be Covid-19 double vaccinated before entering, unless issued with a vaccination exemption.
These changes will come into effect, Monday 29th November 2021.
Attending appointments at our clinic
Calvary Adelaide Hospital & Wakefield Orthopaedic Clinic
Patients and visitors to be Covid-19 Double Vaccinated. We will require proof of the Covid-19 double vaccination certificate before or on entry to our clinic.
*All patients and visitors are to report to Calvary Adelaide Hospital COVID-19 screening desks, either in the main foyer or consulting building prior to entering the clinic*.

Patients and visitors will be required to wear surgical masks when in the hospital precinct with additional masks available at the screening desks.

Please ensure you check-in using the QR code and present the green tick to the screening desk or by completing the manual form. You will be required to check in again using the QR code displayed on the door when you arrive at any of our Wakefield consulting suites.

Patients attending from interstate must have completed the Entry Check SA application and have their risk level assessed to determine entry conditions. These patients will require evidence of their double Covid-19 vaccination certificate on arrival.

Patients will be asked to attend their appointment alone unless a companion is necessary

Adhere to the social distancing measures in place and practice good hand hygiene.

We recommend all patients to arrive on time (and not early) to their appointment and refrain from standing close to our reception desks when organising appointment follow up.
Please refrain from standing close our reception desks at all times during your visit.
Please do not attend our clinics if you:
Are not double vaccinated for Covid-19 (unless issued with a Vaccination exemption)

Are unwell or presenting with Covid-19 symptoms

Are quarantining or awaiting test results for Covid-19

Are categorised as being unable to attend a high-risk health care setting

Have been in close contact with a confirmed case of Covid-19

Have visited the contact tracing locations as listed on the SA Health website
Should you meet or have any concerns regarding the above criteria, please call Wakefield Orthopaedic Clinic's Medical Reception on (08) 8236 4100
Telehealth Appointments
Unvaccinated or compromised patients may have the opportunity to attend an initial telehealth appointment at the discretion of our doctors. This will be determined on a case-by-case basis as necessary.
At the present time, an unvaccinated patient may be able to attend a face to face appointment if deemed urgent or in an emergency, on Level 1 of our consulting suites only.
For more information, please call the Medical reception on (08) 8236 4100.